Boston is a city rich with musical history. Cultivating and inspiring a plethora of noteworthy musicians such as Donna Summer, Aerosmith, and John Mayer, to name a few, the capital of Massachusetts is a popular tour stop for both large and small scale touring musicians and is a haven bursting with unknown talent waiting to be discovered. As most major cities, Boston has had its fair share of legendary venues which in their prime hosted acts that one could only dream of being able to experience today. Though most of these historic live music destinations are no longer standing, several have survived and are still operating today. Is your favorite Boston venue one of those famous spots?
House of Blues – 15 Lansdowne St, Boston, MA 02215
The first-ever House of Blues opened in 1992 in a historical house that was converted into a 180-capacity live music hall in Harvard Square by Isaac Tigrett, co-founder of the Hard Rock Café. The opening was financed and supported by Dan Aykroyd and James Belushi, brother of the late John Belushi, of The Blues Brothers, and several other prominent names in entertainment, including Aerosmith and River Phoenix. The venue became a popular music destination, hosting guests such as Al Green and Ronnie Earl, and eventually expanding into a restaurant and live music venue chain with 11 locations across the US. This particular location would remain active until 2003, when it was announced that the venue would close due to its size and decaying conditions, and that a new location was in the works. In 2007 it was announced that the new House of Blues would open on Lansdowne Street by Fenway Park, a strip famous for its bustling nightclub scene that has been active since the late 1960s. This new venue would be located on 15 Lansdowne Street, an address with a history of its own.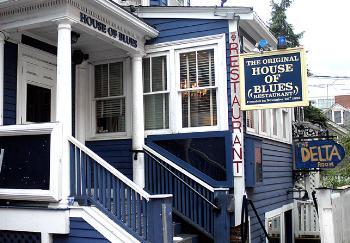 Ask any local Bostonian about 15 Lansdowne Street and they'll probably have an interesting story to tell you! This historic location has been in use for live music since 1969 and is the site of several famed nightclubs that have come and go over the last 40 years. These grounds have been walked by a roster of legendary acts that could make any lover of popular music squeal. Originally built as a garage to house delivery horses, carriages and trucks, the spot was turned into a psychedelic rock club called The Ark in 1968 by new-coming promoter Charlie Thibeaux. Though this venue's time on Lansdowne was short-lived, it marked the beginning of the street's development as one of Boston leading music and entertainment districts. That summer of '69, the venue was purchased by entrepreneur Ray Riepen and Don Law (current owner of the House of Blues in Boston) and re-purposed as the new location of the psychedelic ballroom Boston Tea Party, a popular club that had been located in the South End and was a famous destination for rock and roll artists coming through the city of Boston in the late 1960s. The club continued to operate up until the end of 1970, when Don Law decided to move his business to larger venues such as The Orpheum and the Boston Garden. As disco became the new craze in the 1970s, the club became re-purposed, this time by promoters Steve Rubell and Ian Schrager along with their partner Jon Addison, who turned the space into Boston's first discotheque called 15 Lansdowne. The trio split later on at around 1977, when Rubell and Schrager moved to New York to open Studio 54. Staying in charge, Addison hired promoter and business mogul Patrick Lyons to manage the club, now re-imagined into Boston. In 1980, along with several investors, Lyons bought the property and the rest of the Lansdowne Street clubs, re-designing and turning it into the Metro Spit complex, and later Citi in 1988.
The club changed its name to Avalon in 1992, and underwent a major renovation in 1992 adding an additional 7,000 square feet of space by joining with the Mama Kin Music Hall next door, and changing its name to Axis. The clubs remained Avalon and Axis until the building was demolished 2007 demolished and replaced by Don Law's new House of Blues. This new venue would open in 2009 with a capacity of 1,800, twice the size of the original House of Blues in Cambridge. The venue continues to operate today, hosting a large variety of musical events every year. For a list of future events and more information, check out their website and follow them on Facebook and Twitter!
Boston Tea Party – 53 Berkeley Street, Boston, MA 02116
Though no longer standing, we felt it was important to include Boston Tea Party into this list because of its importance in the history of Boston's nightclub scene.
This legendary venue was the place to be during the psychedelic movement in the late 1960s, hosting famous acts such as The Velvet Underground, Pink Floyd, Jimi Hendrix, Cream, and The Who. The club was opened by hippie entrepreneur Ray Riepen and MIT graduate David Hahn in January 1967 in an old 19th century meetinghouse that had till then been used to show underground films. Boston Tea Party quickly rose to fame as a hotbed for 1960s counterculture after Riepen started an underground radio station along with group of DJs to play rock music and promote events. Originally hosting local acts and later working its way up to famous artists, the club would feature a psychedelic ambience complete with light shows, projections, and art. Because of the costs of hiring large bands used to performing in larger arenas and events were rising, the club had to strategically relocate to 15 Lansdowne Street under the management of Don Law, and remained Boston's premier live music destination until its closing in 1970.
The Middle East Restaurant & Nightclub – 472-480 Massachusetts Ave, Cambridge, MA 02139
Located in Central Square right near our offices, The Middle East Restaurant and Nightclub is one of Boston's most-sought out venues by touring acts across the country, and is also the location of one of our main stages during our Together Festival. Consisting of three live-performance spaces and a restaurant named ZuZu, The Middle East Restaurant & Nightclub hosts a huge number of events every month, spanning from local to internationally known acts.
The venue first opened in 1970 originally as a Lebanese restaurant by brothers Joseph and Nabil Sater Habib. The brothers owe their early success and loyal customer base to the growing ethnic culture in Cambridge and their authentic home cooking, consistent family presence, hospitality, and ambiance. As their business continued to grow, in 1975 the brothers acquired the next door storefront, annexing it to the original space and creating what is now known as the Upstairs. With this expansion they would add live music to their venue, treating their customers to belly dancing, jazz, funk, and Latin music after dinner. Because of its 200-capacity, the space quickly became a popular performance spot for rock musicians and other acts coming in and out of Boston. Following the success of the Upstairs venue, in 1988 The Middle East acquired the bakery next door on the corner of Mass Ave, turning it what is now The Corner, a 70-person-capacity restaurant with a performance space and bar. That same year, the brothers would also buy the abandoned bowling alley in the basement of their building and transform it into the Downstairs, a 550-capacity venue that would be used to host all types of musical acts. The Middle East Restaurant & Nightclub now consists of the Upstairs, Downstairs, The Corner, and ZuZu, a restaurant added in 2001 located between the Upstairs and The Corner. The restaurants and nightclubs also serve as art galleries, with some artists having to wait over a year for their works to be featured in the building. Many great acts come through the Middle East Restaurant & Nightclub yearly; For a complete list of future events and more, visit their website and follow them on Facebook and Twitter!
Orpheum Theatre – 1 Hamilton Place, Boston, MA 02108
One of our favorite locations to see live music is the Orpheum Theatre because of how hidden away within the city it is. Going to a show here is a unique experience because it is literally in an alleyway off of Tremont St in Downtown Boston and is one of the oldest still-running theatres in the country! This site has been the location of several venues throughout the years, hosting a huge variety of productions spanning from vaudeville to rock-n-roll music.
Originating as the Boston Music Hall in 1852, the site of what is now the Orpheum Theatre has quite a history. It was completely renovated in 1900 and converted into a vaudeville theatre called the Empire Theatre in 1905, which only lasted about a year before being purchased by mogul Percy Williams. Renamed the Orpheum, in 1910 Williams would sell the venue to Marcus Loew, of Loew's Theatres, who would take the venue to new heights. Loew hired renowned theatre architect Thomas Lamb to redesign the space which would have an expanded capacity and a new illuminated golden colored proscenium arch. The Orpheum would re-open again in 1916 as a multi-purpose venue, hosting a variety of vaudeville and film. By the 1930s all had been replaced and the theatre became a double-feature movie theatre. As fads came and went, the Orpheum's success dwindled, and by 1972 was abandoned and reopened as Aquarius, a new live concert hall. In 1974, Sarah Caldwell, founder of the Boston Opera Group, moved her business into the theatre and changed its name back to the Orpheum, before re-locating her Opera Group to the current location of the Boston Opera House on Washington Street. Since then, the theatre has been owned by the Drucker Realty Country and is currently operated by Don Law and Live Nation, who renovated the theatre and reopened it in 2009 as a live music venue which is still in use today. For a list of future events and more information, check out their website and follow them on Facebook and Twitter!
Are you an aspiring DJ or producer hoping to one day join the ranks of musicians who played at these iconic venues? We offer a variety of courses of DJing and production. Drop us a line and learn more about our programs.
Oops! We could not locate your form.